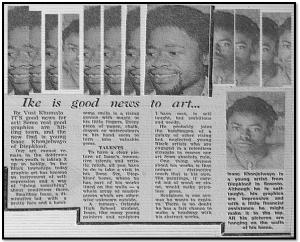 "Gift-It" by Ike hosted by Isaac Khonjelwayo has a special "Framed Art Prints" for sale. Among this collection from my galleries, this week's special painting is (Secrets Of The Sea). And it is a perfect collectors items. This painting was inspired by the beauty and intelligence of Dolphins.

In 2005 I traveled to Durban south coast in South Africa and for the first I visited uShaka Marines World sea world entertainment complex. I saw and experienced something very special the "dolphins show". Immediately I fell in-love with these animals. My attitude and the entire mystery of the sea and the oceans captured my imagination, to a point where I now follow a TV program about the ocean and wildlife TV series by National Geographic.

My curiosity about the sea world was completely immersed. I suppose my first encounters with ushaka marine in 2005 dolphin show inspired this painting. It is bad and sad that (First Dolphins Killed in Japan's Notorious Annual...